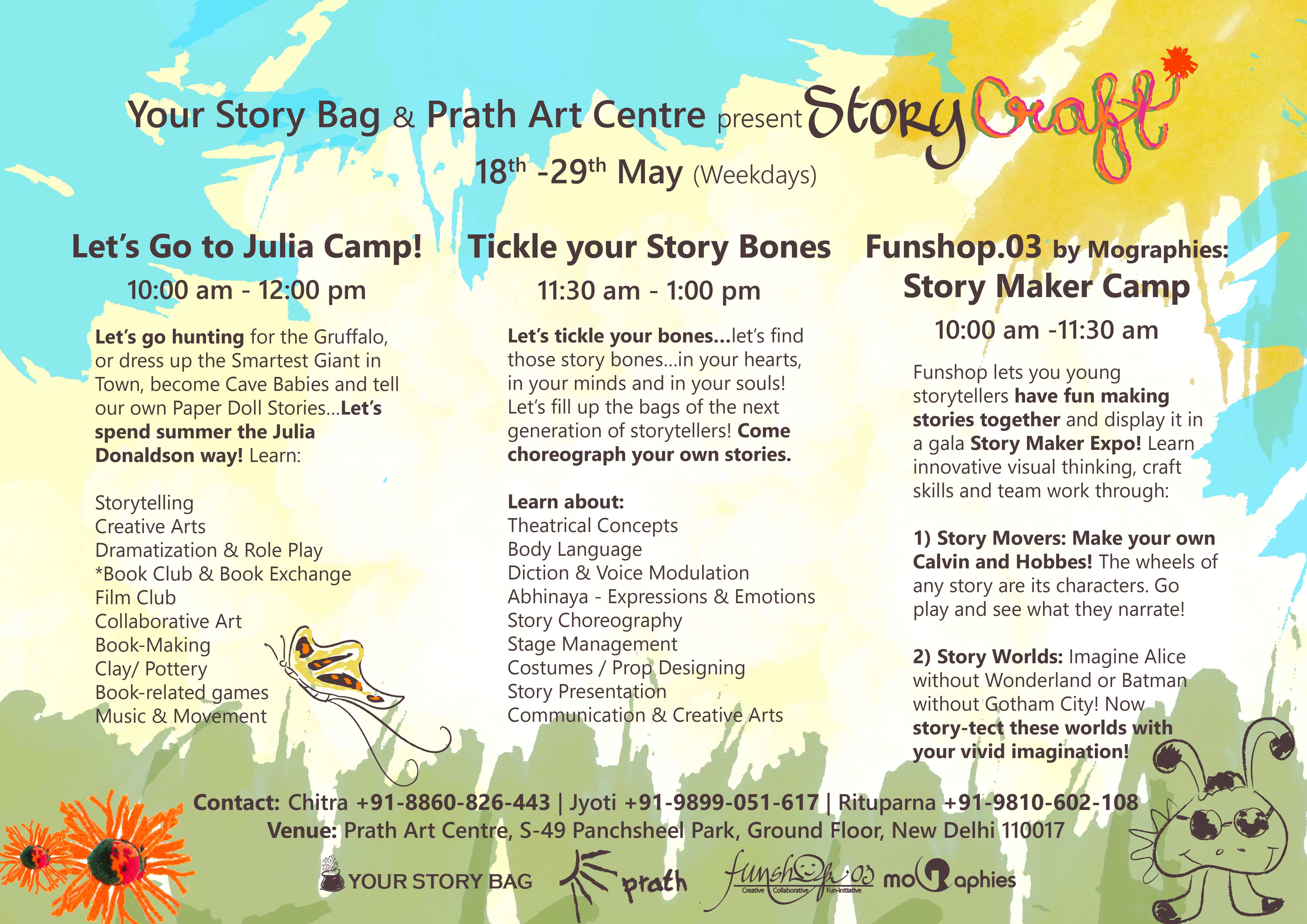 (Thinking Aloud)
Stooooorrrry Makkkkkker Caaaamp, Voila! I finally found a name for a children's Summer Retreat…or should I say a Fun Treat of adventures with Stories? What was I thinking? What was I intending to do? Will young children really connect with 'The Story Maker Camp'? Before I answer these, let me unroll some memories from the secret scrolls of time, so we can trace back the roots for this latest adventure!
Back Story: Naive Beginnings
(Tip: You could sing-song as you read)
"Let's start at the very beginning, a very good place to Start!"
So began Maria, crooning Do Re Mi, in the musical classic, The Sound of Music. Like most children, my sister and I grew up listening to our Grandmother's mythological bed time stories from Mahabharata, Ramayana, Puranas etc. Listening was fun, no doubt. I especially recall tirelessly playing audio cassettes of Preeti Sagar's nursery rhymes' collection, over and over again.
More than listening and reading (which was always cumbersome), there was something far more magical that captivated my imagination. At a tender age of 4 or 5, my own wax crayon drawings, inspired me to jump right in, and travel in my own little world of doodles. I was in love with Pictures!
Beautifully illustrated books on Fairy tales like Cinderella, Jack and the Bean Stalk, Little Red Riding Hood, Pinocchio, Arabian Nights, Tales of Panchatantra; An antique family possession, a slide viewer toy showing little photographic films of Aladin and his magic carpet; Amar Chitra Katha's Akbar Birbal, Krishna, Vikram-Betal;  TINKLE's Shikari Shambhu, Suppandi etc… are my fondest memories of visual boats that took me into colourful and flavourful worlds of stories!
Those were days when summer vacations also meant, hiring VCR tapes and watching select classics both cartoons and films like Bugs Bunny, Daffy Duck, Tom and Jerry, Dennis the Menace, Audrey, ET, Sholay, Charlie Chaplin, Laurel and Hardy etc., with parents, cousins and neighbours. One afternoon, we were all watching Mary Poppins, and Whoa! Was I thrilled! Why, you wonder? Wouldn't you too, be stumped, to find out that someone just read your dreams, before even you were born?!!??!! Wait, that sounds absurd!
Oh! Supercalifragilisticespialidocious, supposedly the longest word in English (kidding),  was also a song that pictured, Mary Poppins and the children daintily hopping and stepping into the chalk drawings on a sidewalk. They were talking, singing, dancing, gay abandoned, with cartoons of this alternate world! How exciting was that? Albeit naive, that, was my very first childhood lesson, that miracles can happen and dreams do come true ! Thus began my tryst with visual stories.
Visual Stories: Why?
I drank up with my mind's eyes, a whole gamut of visual stories from books to television to films to even songs/ music videos (Read my list at the end of this blog). They still refresh my memories from past. Of all these, animation films and cartoons were my first love and have now become a lifelong affair. Walt Disney, MGM, Hanna Barbara and Pixar productions were my tomes to experience many roles, worlds and lives in one lifetime!
Visual stories offered me a richer experience as stories could be expressed with images, sounds, music, actors, looks, expressions, voices, styles, costumes, sets, props etc. There was immense power in visuals. They were my most palpable connection to immerse myself in the intangible spirit of stories. I even took flights of fantasy into non-fiction. With an imaginative mind I could latch on to just one visual clue and fill out the entire picture in my head. (Years later I got to know, and it was good to know, that this skill works wonders to build empathy and nurture relationships.)
Teaching the Joy of Story Making
As time rolled on to a decade into the new millennium, I was at that very crossroads, where we all get to make those 'big decisions' about life. It's a no brainer you think, right? Yes and no. I did choose my childhood dreams. I wanted to be a story maker and collector, packing my bag with stories from near and afar, real and magical, made and heard. All I wanted to do was to spread them as sweet treats to all, especially children. They are the future we will never be or see, but we can stay connected through our shared stories.
I became a Visual storyteller, that was my idea of not having to work for a single day in my life. Visual storytelling's so much fun that its just play, I thought! But, living up to this dream is another story altogether, it's a journey sprinkled with everyday adventures. One of them was arriving at a pit stop called 'Teaching'! Yes! For the first time I took it upon myself to pass on the passion I had for stories, especially visual stories, to my undergraduate Communication Design students.
The experience was everything from fun to exciting to gruelling to disappointing to heaving a sigh of relief and ultimately feeling pure bliss at the display of wonder crafted by hearty imagination and magical hands. That's just how the creative process flows! Eureka! Then it dawned on me. Why wait till college to learn something so fascinating that fills our world with the joy of making?
 Story Craft: A Fun Proposition!
When Your Story Bag approached with the idea of collaborating for a summer session on storytelling, BAM! It was perfect timing! Story Craft was born and so was Funshop.03. The mission was clear. We wanted children to relish the joy of creating stories. That sounds fancy, but create what exactly? Here's where the plot thickens…:)
Can you recall one story that moves without any memorable individual, whether a narrator or a protagonist, who is not pushing the plot ahead? Can you recall any story which does not concern us with an external environment or a context? Finally, can you think of one story that has not urged you to find a message or meaning in it? That's it! I had struck upon a metaphor for stories!
If story was a cart, then its wheels are the people/ characters that push it along a road which is their world/ environment. The nature of their movements are the ups and downs that make a story. That's where the Story Movers and Story World components of the Story Maker Camp come from.
Story Craft is a nest for young minds to exchange ideas and flap away with some story wizardry. They can practice making a story from ground up, by dreaming up characters, their personas, worlds, actions and the stories that emerge from these. In doing so, the creative process allows children to understand much more about themselves as individual personalities. Often these stories are in some way also a reflection of their own lives. The intent and the moral of this story, is to let them grow in the experience and learn lessons for life.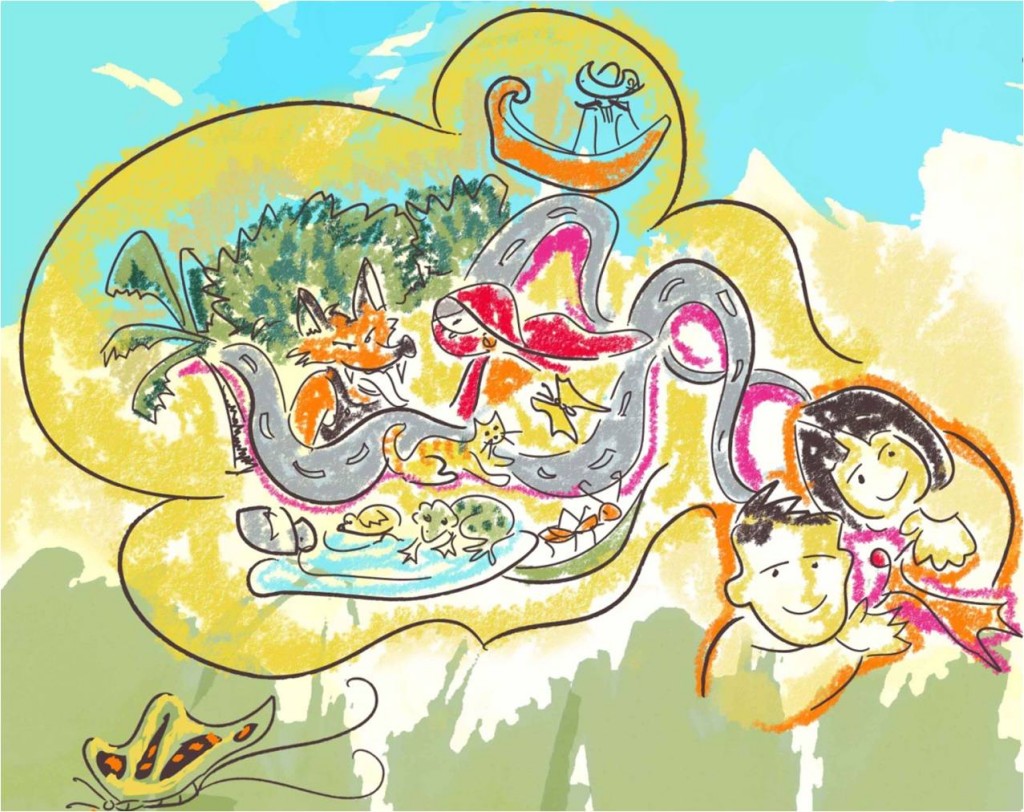 What makes the Story Maker Camp a Fun proposition is that it's a Funshop production. Funshop always roots for collaborative creation, to enrich the learning experience by sharing, caring and above all celebrating creativity with togetherness. Children are natural storytellers and the Story Maker Camp uncovers for them, the inner workings of a story which are the same for life. Stories Show and Tell, but Makers Feel and Own them!
My Picks: Pop-up science books, colourfully illustrated encyclopaedias, magazines, The Young World and Folio by The Hindu, Enid Blyton's Elizabeth (The Naughtiest Girl in School), Doordarshan's (DD National) shows- Chhutti-Chhutti, Puppetry, Gayab Ayaa, Ek, Anek aur Ekta, Malgudi Days etc. Three Musketeers, Robin hood, Treasure Island, Scarlet Pimpernel, Ruskin Bond's Rusty, Moby Dick, Charlie and the Chocolate Factory, James and the Giant Peach, The Fountain Head, The Alchemist, Anne Frank's Diary, Jataka Tales, legends, mythologies and folk stories, Zen Stories, Rime of the Ancient Mariner, Dr. Seuss, Rabindranath Tagore, John Keats, William Wordsworth,  Shel Silverstein, The Beatles- Yellow Submarine, Free as a Bird, Byrds, Michael Jackson, The Eagles, Abba, John Denver and many many more animation films.
About Chitra Chandrashekhar:
Chitra Chandrashekhar is the creative founder of Mographies, that blends visual storytelling and design thinking for meaningful and responsible content across media. Chitra continuously looks out for cross-disciplinary design that enriches human experience. She completed B.Arch. in 2007, from School of Planning and Architecture, New Delhi. After a stint with the Delhi International Airport's Terminal 3 Development project, she went on to pursue her Masters in Visual Communication from Industrial Design Centre, IIT Bombay (2009-11). Chitra has also worked as a spatial-graphic designer for exhibitions and installations. She is also a recent design educator, teaching arts and design in Design and Architecture Colleges in NCR. She is motivated to spread the message of creativity for all. Her interests are storytelling, experiential design, experimental animation, culture, crafts, research, design pedagogy and co-creation.