Rituparna Ghosh
- Founder, Your Story Bag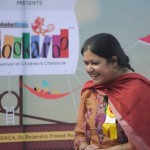 With more than a decade of storytelling on her back, Rituparna Ghosh is the Founder of Your Story Bag. A writer, editor and storyteller practising all three forms of storytelling – written, visual and oral, Rituparna is a compulsive storyteller. Always sniffing for a good story to tell, Rituparna feels that her past life as a journalist and television producer taught her the power of good stories.
As a television producer, Rituparna has clocked nearly 300 hours of television programming that includes social, historical and political documentaries, sports, lifestyle and travel shows, investigative shows and biographies.
As a visual storyteller, she consults organizations in telling their stories through films and audio-visuals.
As a writer, she helps businesses and corporates craft their business stories across various platforms.
As an oral storyteller, she works with varied audiences in helping them 'Discover Expressions, Emotions & Life Through Stories.' With adults and corporates she helps them harness the power of stories and helping them find the storyteller in themselves!
Rituparna believes that there is a storyteller in each one of us. Children and adults need stories and telling skills all their life, to make sense of the world and give shape to their ideas! Besides running her own storytelling classes for children, Rituparna also tells in schools, bookstores and activity centers. The flagship storytelling program, Tickle Your Story Bones (Teachers) has been adopted in prestigious schools. She also conducts workshops for parents in using storytelling as a parenting tool. In November 2014, Rituparna performed as a storyteller at the prestigious Bookaroo Children's Literature Festival.
In the corporate space, Rituparna has worked on projects involving the use of storytelling for Employer Branding and Change Management.
Rituparna strongly believes that storytelling will be the most sought after skill in the coming years and she deeply committed towards making storytelling a mainstream skill in India.
A post graduate in Content Creation & Management from School of Convergence @ IMI and a Literature Graduate from Lady Shri Ram College, New Delhi, Rituparna is a trained Bharat Natyam dancer. Rituparna is currently attached with Shyamaprasad Mukherjee College, Delhi University as a Faculty in Storytelling for their B.El.Ed Program. In the past she has also trained students in Communications and Media.
When not reading or telling stories, she can be found eavesdropping into conversations collecting stories around her!