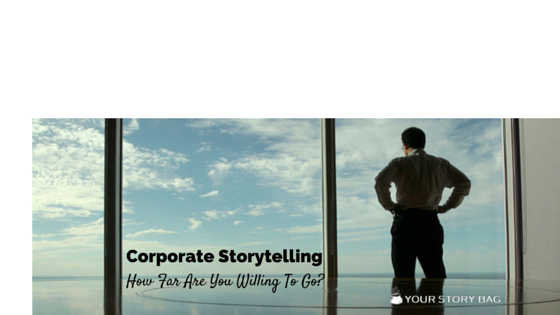 "How far are you willing to go?" I asked as always. I wanted my client to ponder over it, to take time and think of an honest reply.
Corporate Storytelling is like setting off towards the horizon…a never ending journey.
A few days back I spent an hour in the morning on a video call with a potential client based in Mumbai. It is one thing to make a pitch through a digital medium, it is quite another to truly show a client the expansive storytelling horizon that lies ahead of them.  On the other side were representatives of a 15 year of brand of natural products who have been in the business for long, long before the Forest Essentials and Biotique products made the Indian shelves home. In fact they told me that they are the first Indian brand in 100% natural products. Now this came as a surprise to me! Not that I am an ardent consumer of natural products but every time I see handmade soaps and scrubs, I am drawn by their aroma. So much so that I deliberately whisk away fistfuls of Forest Essentials goodies when I stay at the Taj! Or at the Westin, I make deliberately calls to housekeeping to give us additional bath salts and scrubs. Oh yes, we have all done that, so don't roll those eyes reading it here. At one point of time, during our one day trip to Rishikesh, I made the hotel give us 10 handmade soaps that they place as complimentary in the bathroom. We weren't planning a 10 day stay, but I wanted my soaps worth 10 days…yes, I paid for them! Or didn't I? The point I am trying to make here is that I may not buy handmade products everyday but I know about the various brands that are available in India. But I hadn't heard of this brand until they got in touch with me through my website! I was not aware they existed…but  if they are a 15 year old brand they ought to tell their story from the top of the tallest building!
A closer look at their products and their messaging through their website and social media channels told me more. While they are looking at a storytelling intervention in their chosen areas of concerns, I noticed a sea of opportunity ahead of them. I noticed gnawing story gaps, points of concerns where their communication and brand positioning are not in sync. In our discussion that followed they shared story needs and a desire to sow the story seeds in their organization. There is tremendous potential out there. The possibilities are multitude. And as a storyteller I have already transitioned to 'Story-la-la' land where I am getting goose-bumps telling those imaginary stories! *Sigh*
But the question remains…how far is the client willing to go?
There is a reason why storytelling is so alluring; it is because in one sweep it opens the door to a world of possibilities ahead. If you are a story lover then you could feel like a child lost in Hamleys. Or like Charlie in the Chocolate Factory. Some have asked me if storytelling is a route for communication. I say it is a route, a medium, a tool and a platform. Therefore, once you decide to embark on a journey with storytelling, you are staring at the horizon…where no matter how many stories you tell, there will always be many more waiting to be told!
Storytelling is not for the faint hearted. If you are a corporate contemplating the storytelling approach then it is best you know what you are getting into!
How do you know you are ready for storytelling? Here is a check list for you to begin with.
Am I A Believer?
Simply because if you aren't, then there is no reason for you to go down the storytelling path! It's like religion. You cannot to be an atheist and go to the temple every day! Similarly you cannot not believe in stories and still be excited about it! Storytelling is not a fad. Yes, there are many who are trying to dish out different flavours of stories, with emotional marketing being the top of the chain concepts. However, understanding the right emotional pitch for your brand is the key. You cannot just hop onto the bandwagon by wanting your audience to feel all teary-eyed about your brand just because everyone else is doing it for theirs and its going viral!
Ask yourself, do I believe in the power of stories to bring change in my organisation? Do I feel that my employees will be empowered if I honour their stories? Will I build goodwill amongst my consumers by being honest about my vision? Are my CSR initiatives only about ticking the boxes or are our change stories more important?
You are a believer in stories if you believe that stories have the power to influence, inspire, empower and bring change in the world and not just in your organization.    
Am I Ready To Transform My Business?
Storytelling will mean looking at yourself through the prism of a storyteller, and it would mean understanding why you exist. It is about transforming the way you do business. It will mean recognizing the emotions your brand has on people. It is about positioning yourself as a brand that is transparent in its operations. It is about revealing your intent, your passions, your commitment and dreams to your consumers, employees, investors and partners. It is about opening your doors wide open for people to know your secrets (one's that make you credible and authentic)). It is about making your story so powerful that your stakeholders too want to be part of it! It is about baring your heart for your consumers to feel they know you like best friends do. Or like your parents do!
Storytelling will enable you to make Creative Disruptions in your industry. You may the only one standing before a mike to make an honest attempt at telling a story. Chances are that no one else in your sector is willing to do that. There may be a lot of window-dressing of facts and impressions. After-all it is all about social media, fancy advertising, PR and content marketing today. Storytelling will mean you have to tell the untold stories that your audience wants to know. This could even mean giving a platform to your doorman to step forward and say that he works for your organization.
Corporate Storytelling will change the way you look at yourself and the way the world looks at you! Are you ready for it?
Am I Willing To Embark On An Unending Journey?
Corporate Storytelling is quite like parenting; once you decide to adopt it you have to stay responsible and committed to the role of a parent. The story in this case is your child who you will have to watch out for the rest of your corporate journey. It is like being a gardener. To me, the process of storytelling is all about sowing the story seeds within the business processes. Once the story tree sprouts you will have to nurture it for a lifetime for it to bear you the fruits of storytelling! So much for visual imagery…but you get the drift, don't you? Once you are on it, there is no turning back!
Who Looks After The Story Tree?
Of course, you have to! Storytelling at the workspace is all about building a culture. Like I said before, you cannot be using storytelling as a one-time experiment, enjoy the results and then forget about it. If you are a storyteller then you have a responsibility towards the craft. You have to be able to sustain it in order to make it a wholesome success for your organization. You may choose to begin with a small project, but then you have to let the storytelling branches penetrate through all your departments. You have to allow your employees to tell their own stories, your leaders and managers have to use stories to connect, build, train and grow. To truly harness the power of stories you have to build an effective knowledge management system. Storytelling can make you a thought-leader in your industry, but for that you need a dedicated storytelling team that is eager to listen, extract and tell stories every day!
Am I Willing To Be Patient?
Is storytelling measurable? If corporate storytelling warrants a dedicated team, then what are the ways to account their productivity? What about ROI? Storytelling is measurable against a set of targets. What those targets are however depend from organization to organization. Do you want to use storytelling for perception building? Or is it about community engagement? Are you looking at using storytelling for team building? Or are you using storytelling for employer branding? Or is it about product awareness? How about consumer testimonials through storytelling? There are several uses to storytelling at the workspace and therefore equally varied are the ways to measure its efficacy. Whatever be the route, the one thing that you will need is dollops of patience! Storytelling when driven with a key strategic approach is bound to yield results, but it all depends on consistency and quality of your storytelling. If all the pieces fall in their places then a good run of storytelling will begin to show its effects in a period of 6-12 months.
But then, the question still remains…how far are you willing to go?